I can't believe it's already mid-October! Can you believe it's time to start thinking about the holidays? Time to plan who is coming over for dinner, budgeting for gifts, and what to eat (personally, my favorite part). I vow every year that I'm going to get better about planning my gift-giving, but this year I mean it. AND, I thought I might share some of what I find along the way, should you find the information useful too.
Where to start? Solving the mystery of "what to get". If you're like me, you're thrilled to receive a gift at all. I'm truly appreciative of each and every thought and effort from a loved one. No matter where it came from, the thought IS what counts and I am eternally grateful for every lovely surprise.
I also LOVE IT when my family and friends share what they truly want for a gift. Don't you LOVE that feeling when you give a loved one EXACTLY what they wanted? I certainly do. I truly don't mind an honest answer to the question, "so, what would you like this year?"
That's why I'm encouraging my friends and family to use the QVC Wish List on qvc.com. Have you ever used it? I use it all the time to save (and keep up with) items I LOVE at QVC. If you have used the "Wish List" button before, you know what I mean. If not, let me show you! On every item page on qvc.com, there is an option to "add to cart", "speed buy", OR "add to wish list".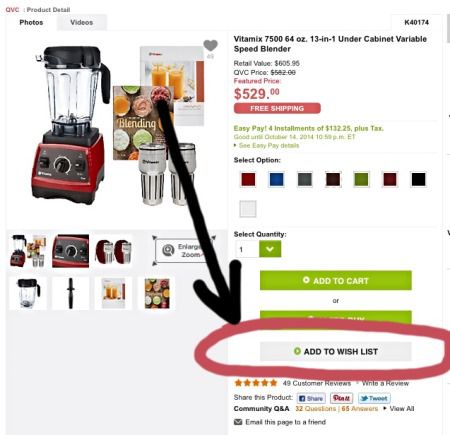 Once you create your Wish List, did you know you can e-mail it to anyone that would like to see it? See where I'm going? Have your Mom, Sister, BFF, cousins, etc make a list of what they would LOVE to have. Then, they can email YOU (and up to 9 others) their Wish List!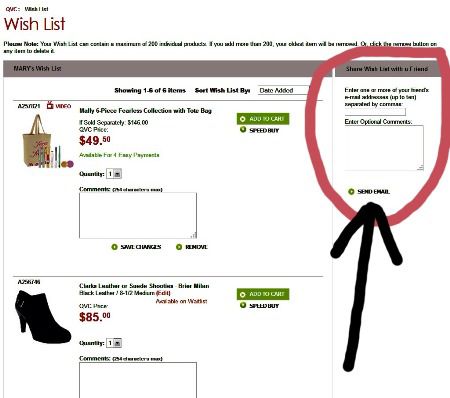 Then, all e-mail addresses entered, gets an email that looks like this!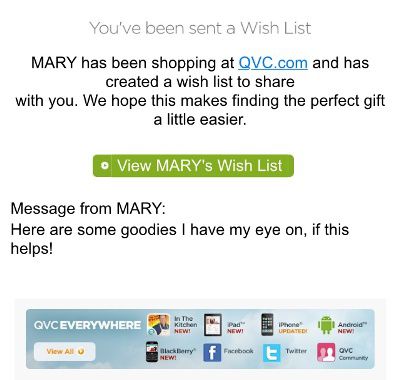 Now you don't have to guess, you don't have to go to the PACKED mall, AND you can start picking things up now and not break the bank! Why is it always so blazing-hot at the mall in the Winter-time? I have never understood that.
Happy hunting! As long as we're on the subject: what are some of the items on your Wish List? A Vitamix? JAI by John Hardy jewelry? A great new scarf? What do you have your eye on? I'd love to hear it!
See you soon! ~ Mary DeAngelis