For our Honeymoon we wanted to go somewhere that we may not get the chance to go back to for a good while.  We decided to spend our honeymoon in French Polynesia both on the Paul Gauguin Ship and in Tahiti.  There are 115 islands in French Polynesia; some that are very small and desolate, and others that have bigger populations- but still small town, family-life oriented.  Throughout most of F.P. there is no real estate.  Everyone who lives on the land of the islands owns their land because it's the land their family has grown up on.  Some families have whole Motu's (islands) to themselves which is pretty amazing. 
I've never been anywhere in the world that was as beautiful as French Polynesia.  Part of the reason it's so beautiful is the people that call it home.  Everyone we met from the Islands was beyond nice, happy to meet us, and share a part of their life with us.  If there's one thing that I kept thinking to myself throughout the whole trip is that the Polynesian people live a refreshingly simple life, full of flavor. I hope that lesson will stay with me throughout my life,  because the people we met showed us that it's the simple things in life you treasure most.
We visited five islands during our eleven day trip to French Polynesia.
Huahine was our first stop.  This island was really interesting.  There are eight villages in Huahine but at first glance you think "Where do they all live?!" We went and spent the day with a family that had called Huahine home all of their life- and they were so amazing to get to know. 
For Lunch they showed us how to make a tradition Tahitian Tuna Salad.  The first step was to pull the tuna from the ocean where it had been marinating for a few hours… hmm that was different :)   They served lunch with the tuna salad, rice, beef, and the best tasting fruit I've ever had.  When we were done eating they told us to wash off our dishes in the ocean so the fish could be fed and the salt could clean off the dishes.  That also put a new spin on how we do things back in the states; but hey, the fish loved it and we didn't get sick the entire time!
Next stop was Tahaa. This is the vanilla island and a destination for Tahitian Pearls.  They call Tahaa the twin islands because they are the only islands in F.P. that have been separated over time and share the same lagoon.  We were lucky enough to visit a pearl farm on the side of the ocean to learn what a science it is extracting the pearl from the oyster.  At any given time they are harvesting more than two-hundred thousand oysters in their lagoon.  It takes anywhere from four to five years to get the oyster to harvest a sizable pearl and at the end of those five years only two percent of those are considered perfect--- which I'm guessing is why Tahitian pearls are considered such an investment!
 If heaven has an address… it's here in Bora Bora.  It's more beautiful than they say it is and the people that live there couldn't be any more nice or welcoming. 
Jet Skiing around the Island
Dinner at Famous Bloody Mary's
Moorea is probably one of the most spiritual places I've been in my life.  The Island has just a magical calming presence to it. 
Here's our Dive/snorkel spot in Moorea.  We swam with Sharks that were 6-7 feet in length.  Every time the sharks would come by I would go over to our catamaran and hold on for dear life… as if that was going to help anything!
Relaxing by the Pool
On Moorea there is a Dolphin Rehabilitation Center.  We spent one afternoon there with three dolphins that honestly changed our lives.  One was 36 years old and blind.  We communicated with her by signing on her forehead.  When we would sign to her she would snuggle up for a pet or never leave our side while we were swimming. I teared up the entire time and currently because she was just beyond special.
Kisses for the Lady
Even though she can't see… she loves to play fetch!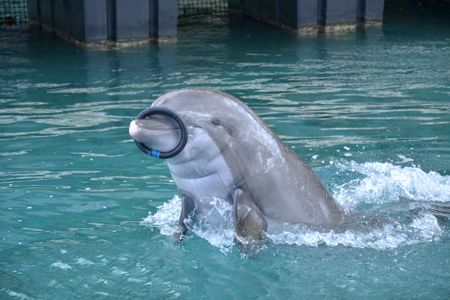 Tahiti was the last stop to our wonderful vacation.
Sunset
Sad to have left our over-water bungalow.  
Thanks for reading this far!  Enjoy your week!
XO,CC
http://www.facebook.com/CourtneyCasonQVC
http://twitter.com/CourtneyQVC
http://instagram.com/courtneycasonqvc