I am a traditionalist at heart – give me red, white and blue for the 4th of July, and red and green for Christmas, and for fall and Halloween orange and everything pumpkin.  However, even though I keep my "standards" I do like to throw a little something fun or different each year into my outdoor decorations.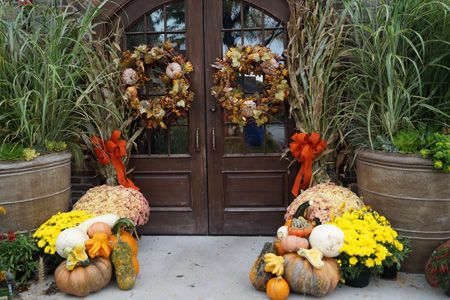 You can't go wrong with pumpkins and squash surrounding your front door.  I like to create layers with different types and colors.  If I am going to carve a jack-o-lantern, I wait until a day or two before Halloween for 2 reasons.  First, I like to have my pumpkins and squash last for weeks.  In addition, I love to cook with them!  Just like going to my garden for a tomato, I go to my front door for Butternut squash!
Some of my pumpkin and gourd favorites in orange and red include Turban squash, Connecticut Field and Cinderella pumpkins.  For great hues of blue and grey, I go to Hubbard squash and Blue Delight pumpkins.  For wonderful whites I use Cotton Candy, Moonshine and Polar Bear pumpkins. 
Here in Pennsylvania, Bittersweet is fairly easy to find from local markets and farm stands.  The branches are beautiful, but to many gardeners, a truly unwanted guest on your property.  It is actually an exotic vine that overtakes trees and shrubs.  But it is pretty...   Another oldie-but-goodie is a cornstalk attached to a pillar, or as an addition to an urn, barrel, or any type of container.  Have fun with this too – weave in some bright orange burlap ribbon or brilliant fall leaves…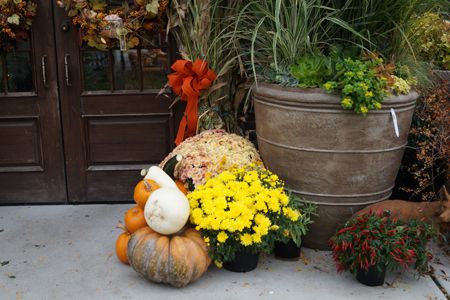 Any front door decorations you create to greet friends and family will be the best welcome of all! 
- Barbara